About Me
My Ferrets
Special People
Life Events
Poetry
Expressions
Home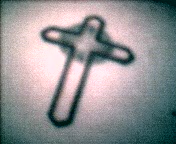 STEPHANIE'S EXPRESSIONS


You see that? That is one of the many ways I've decided to express myself. This picture is of the small tattoo I've decided to have permanently displayed on my body (on the back of my right shoulder to be exact). I'm very proud of my decision of body art, and I can't imagine ever regretting the decision. However, art isn't my only source of expression. By now, you may have read some of my poetry. Writing is definitely a way I express myself, but I also like to contemplate on certain topics (or maybe rant and rave are the more appropriate terms). This is the area to find out what makes me tick. Remember these views are my opinions. No one has to believe any of this crap but me. I'm only expressing myself, not trying to force you to have the same point of view.
If you have something to contribute about your opinions, please sign my guest book (located on the home page). Remember, these are my opinions, and I deserve to have them just as much as you do. Please do not bash me for what I think!